Disclosure: This site may receive commissions for products and services purchased through affiliate links in this post.
What Is the Target Beauty BoX?
Target currently offers their own beauty box monthly to their customers. The boxes contain various sample sizes of beauty related items that Target normally offers for sale in full size. These boxes have been available for a while now as a way to compete with the popular beauty box subscriptions.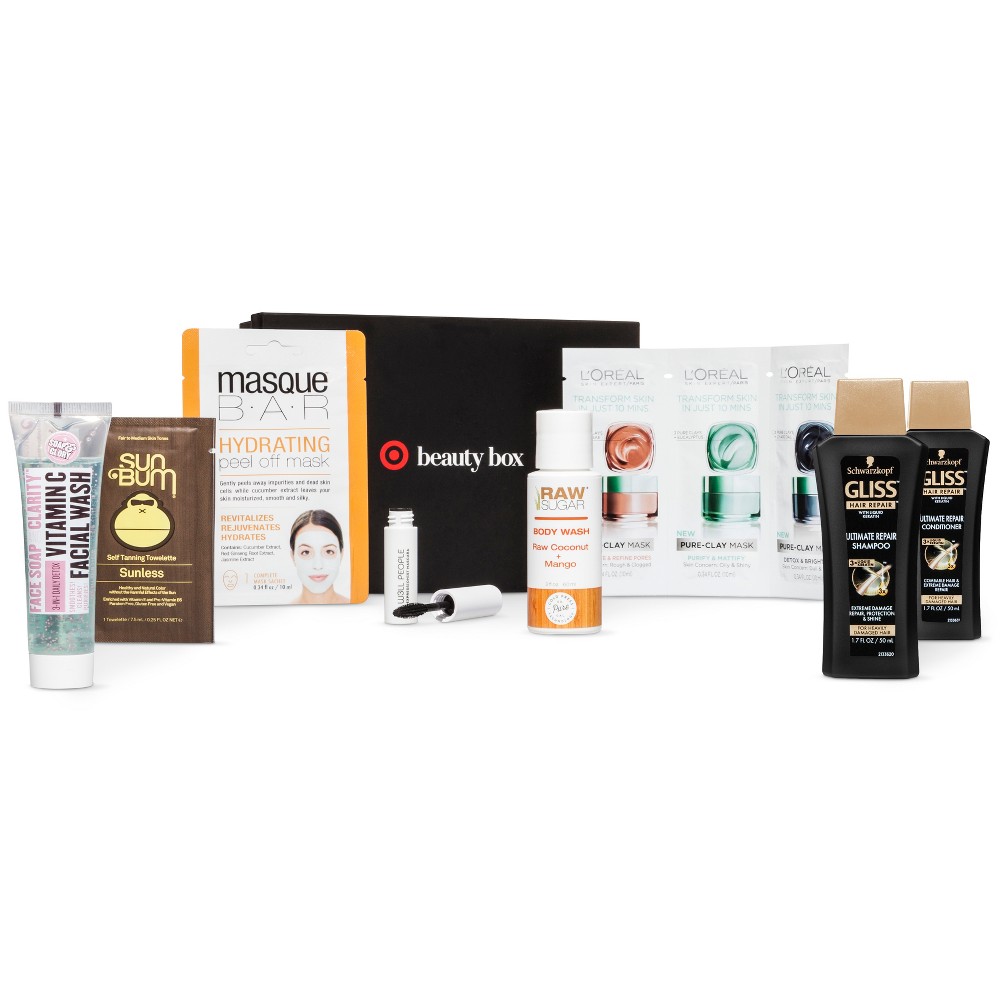 How Does It Work?
Basically, purchasing the beauty box is very simple. Unlike being a subscription where you are locked in for a certain time period, Target offers their box once a month for purchase (usually at the beginning of the month). Every month the boxes come with different samples (sometimes full size items). All of the items included are listed so that you know exactly what you are getting before you choose to purchase. Each box usually costs around $7, but can vary between $5-$10 depending on what is in them that particular month. Occasionally, there will be more than one box to choose from (including male specific boxes) where you can choose one or the other, or both.
Boxes always ship for free, though tax is added on. Boxes can also be purchased with your REDcard to save an additional 5% (read more about REDcard here). Plus, any applicable online coupons may be applied to the purchase. The boxes always come with a Target coupon for beauty or personal items (usually $5 off $15), and these coupons can typically be applied to future beauty box purchases.
Is it Worth Having?
Well, this is a pretty subjective question. It really depends on how valuable you find the prospect of an inexpensive beauty box. Overall the items in the box usually represent a good value for the price you pay. Personally, I find them pretty handy. They can make good gifts for that beauty fanatic in your life, or you can just save the sample sized items to use when you travel (I do this with the men's boxes for my husband). Plus, I do enjoy getting a box of goodies in the mail every now and then.
I would say the best perk is the fact that you can pick and choose which months you would like to buy. So if you don't like the items included that particular month, you are not obligated to purchase. It is also very "no strings attached." You either purchase the box, or don't.
Are there Any Cons?
Considering the fact that there is no obligation in purchasing, I would say there is really only 1 con. Typically the more popular boxes tend to sell out very quickly, like in a matter of hours. However, there is a solution to this problem.
Personally I recommend to set up an alert with mysubscriptionaddiction.com to notified by email of when the new box has been released. This allows you to opportunity to purchase before it sells out and you didn't even know it was available. Plus, they will normally notify you when it appears a new box will be released within the next few days as well.
Other than that, the only issue you might encounter is if you purchase an unpopular box at full
price. Less popular boxes will tend to be marked down at some point before the next box is released to help move inventory. Again the alerts on mysubscriptionaddiction.com will typically notify you of any markdowns.
At the moment the February 2017 box is still available. Feel free to check it out here if you are interested.